The Society of Heraldic Art

Founded in 1987, the Society of Heraldic Arts was the first organisation of its kind in the world. It is now an established and much respected international guild of heraldic artists, designers and craftsmen, its Craft Members offering a comprehensive range of services to private clients and to corporate and civic organisations.
There are two classes of membership: Craft Membership for practitioners and Associate Membership for anyone who aspires to Craft Membership or who loves the vivacity and brilliance of heraldry and wishes to support the objectives of the Society.
Specialities offered by Craft Members include heraldic art (painted or drawn on paper and vellum), calligraphy, bookplates (engraved or drawn), document illumination, raised and burnished gilding, signwriting (including arms on wood, glass, plaster and stone), oil gilding, glass gilding, water gilding, stained glass windows, painted and fired glass, sculpting and carving (in wood, stone, precious metal and other materials), heraldic miniatures and figure modelling, precious metal jewellery, line engraved hallmarked silver or brass plaques, seal engraving, die-sinking for medals and shield-making.
The Society publishes a quarterly journal, The Heraldic Craftsman, which is received by all members. It features the work of heraldic artists, together with articles of a technical nature and news of the Society's activities. The website is essentially a shop window for the work of the Society's Craft Members and a focal point for all those who are attracted to this fascinating art form.
The Society also offers advice concerning the correct use of heraldry to enhance corporate or personal identity and its application in graphic design, architecture, documents, fabrics, artefacts etc..
We can also advise on how to apply to a granting authority for letters patent granting armorial bearings and can assist in the design process. Please browse artist profiles.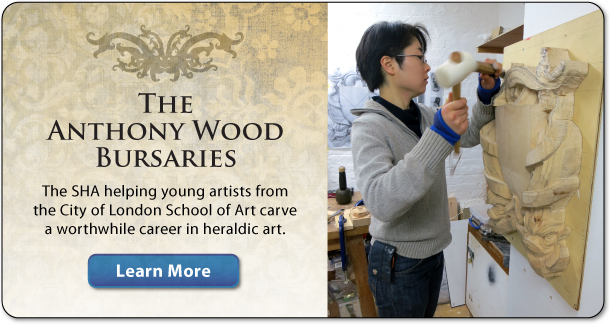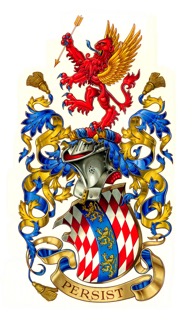 Named in honour of the President of the Society of Heraldic Arts, Anthony Wood, PSHA, and his late wife Margaret, a Queen's Scribe.
These marketing bursaries are awarded annually to selected students of the City & Guilds of London School of Art who have shown a particular ability to design and create beautiful heraldry.

The bursary is designed to assist these talented new artists to establish a presence in the international heraldic marketplace.

The bursary consists of:
Associate Craft Membership for two years.
A presence on the SHA website for two years
One to one mentoring by an established Craft Members of the SHA in marketing and sales of work
Assistance in publicising work already done in the quarterly journal The Heraldic Craftsman.
The selection of Bursary winners is the responsibility of the City & Guilds of London School of Art which will then pass on the administration of the scheme to the Hon Editor in the first instance.
Tim Crawley, head of historic carving at the School says: 'This is an imaginative and potentially valuable, practical assistance at a critical moment in a student's career. The SHA is to be commended on this initiative.'

Edward M. Kelly SHA + click image(s) to enlarge

My initial training was in graphic design. I then spent two years at Reigate School of Art studying heraldic art and calligraphy. I have a special interest in producing art-work for reproduction such as heraldic logo designs. I endeavour to produce simple and clear work in an original style, while maintaining the best traditions of heraldic art.
46 Palmerston Road
Rathmines
Dublin 6
Ireland
email: edmyleskelly@gmail.com
website: www.edmyleskelly.com
Peter & Gilly Greenhill SHA +click image(s) to enlarge

Decorative heraldic painting on pewter miniatures of mediaeval knights was developed in the 18th & 19th centuries, and leaders in these arts included Adam Schweitzer and Carl Besold of Germany. But it wasn't until 1928 that Richard Courtenay started making a fully rounded miniature figure of an heraldic knight. By his death in 1963 he had produced several thousand lead examples. From 1978 to date Peter & Gilly Greenhill continue this tradition using finest pewter.
Today most of this work is exported to America with a concentration on the battles of the Hundred Years War, featuring known knights from mediaeval Europe.
Peter & Gilly Greenhill
5 Westbourne Park Road
Bournemouth
BH4 8HG
England
tel: 01144 (0)1202 762371
website: www.greenhillminiatures.com